Internet Futures
Video interactive multimedia will become embedded in everyday objects from paper to clothes to cars all tied to a new communications Internet everywhere architecture. We will be living in the near future in a Blended Reality – part electronic and part physical in the so called "real world".
The internet is rapidly transforming business, markets, and customers. Every industry from financial services to health care, to electronics to education will be changed. Supply chains in every market throughout the globe will be reshaped. The convergence of computers, networks, and wireless technologies will create both opportunities and threats. Where is it all going? What are the opportunities for mobile e-commerce, trade exchanges and smart networks? What are the challenges for the next internet? What does the future hold for your customers, industry and marketplace.
The Next generation Internet
will merge telephony and video into a vibrant, interactive, sensory experience that will shape industries such as entertainment, retail, health care and education.
Imagine in the future where the Net becomes intuitive, sensory, interactive, aware, adaptive and develops a digital personality that can communicate with billions of people simultaneously in over 200 languages anywhere on the planet or off world? Welcome to the Megaverse, the future of the Internet where culture and business needs are met by a global electronic intelligence.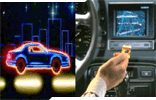 Internet-Ready Cars
The wireless Internet-ready car is coming as another critical link in the mobile eBusiness network that is being constructed. Voice-recognition systems that find that restaurant, buy that stock, or locate a destination for a trip will be rolled out this year. GPS satellite linked communication will offer location-based services for everyone that wants their car to be tied to the global Net. Car companies may discover that owning the portal for eServices in the car may rival the actual profit from manufacturing the vehicle.
Knowledge-Value Engineering
As the net becomes pervasive driven by the unification of supply chains, shaped by telecom, banks and content players an entirely new paradigm of doing business will emerge. Knowledge-Value engineering is the process of leveraging virtual supply chains to manage, create, sell, distribute, market and finance an entire business online.
Deep Personalization
Bringing human-like intelligence into the "smart portal" of the future, where the portal knows it's you, understands your interests, gives you the personal experience in a virtual world.
The Semantic Web
The Semantic Web will play a vital role in helping consumers find what they want and vendors to find customers. This is the next stage of making information linked more intelligently and efficiently over the Net.